Westminster Worship Hour
If you live in the Hudson Valley of New York State and are unable to attend your own church, we offer The Westminster Worship Hour for your spiritual edification.

Listen as the Rev. Kevin Chiarot leads with a call to worship, several pieces of congregational singing, confession of sin, assurance of pardon and a sermon. The service closes with a creed, charge and benediction.
We offer this broadcast for those who are shut in and unable to attend their own church.
---
Air times:
Sundays 11:00 AM and 5:00 PM.
WHVC Hudson Valley 102.5 FM
WFSO Olivebridge/Ellenville 88.3 FM
Kingston 105.3 FM
Catskill/Hudson 101.1 FM
Newburgh/Beacon 90.3 FM
---
Outside of New York's Hudson Valley?
Listen to the entire service on Sunday at 11:00 AM and 5:00 PM via our LIVE stream, or via our mobile app.

Streaming Apps are available for Android and iPhone by downloading from the Android Play Store, or the Apple App Store.
Search for "Redeemer Broadcasting".


---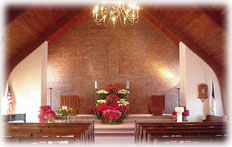 If you missed a sermon and would like to hear it again online,
you may visit the
Church's sermon repository
on their website.